Honda unveils Urban EV Concept at Frankfurt Motor Show
August 16 2017, Honda Canada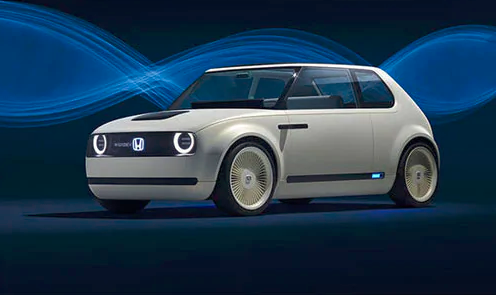 At the 2017 Frankfurt Motor Show, Honda unveiled an all-new electric vehicle, the Urban EV Concept. The concept car has been built on a new platform which will serve as the technology and design to appear on future battery electric Honda production model.
Takahiro Hachigo, Co. President and CEO of Honda Motor Co. officially introduced the new concept. "This is not some vision of the distant future; a production version of this car will be here in Europe in 2019," said Hachigo.
The exterior of the Urban EV Concept features advanced technology while maintaining an uncomplicated design. The low and wide proportions give the car a muscular stance. The total vehicle length of the concept is 100mm shorter than the Jazz supermini.
A new styling feature includes the Honda emblem being backlit in blue. The front of the car displays multilingual messages between the headlights including greetings, advice for other drivers or charging status updates.
The interior features slim A-pillars and a wide windscreen giving the driver excellent outward visibility. The concept will be able to accommodate four occupants.
The concept also features the onboard advanced Honda Automated Network Assistant which acts as a personal concierge. This technology showcase's Honda's vision where mobility and daily life are seamlessly linked. The Network Assistant learns from the driver by detecting emotions behinds their judgments. It then provides recommendations and makes new choices based on the data collected.
This car is expected to enter the market within the next two years but pricing or specs for the vehicle have yet to be fully confirmed.